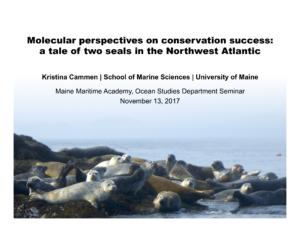 This past month has been a wonderful whirlwind of work-related travel, to and from Canada (twice!) and roundabout Maine.  I kicked off the month with a trip to the University of New Brunswick in St. John to give an invited seminar to the Biology Department. The following week, I ferried across the Bay of Fundy to the Society for Marine Mammalogy biennial conference held this year in Halifax.  Finally, earlier this week I gave a seminar at Maine Maritime Academy.
These varied opportunities provided a great avenue to share our research with diverse audiences – from students to faculty, and from stakeholders to managers – in diverse formats – from a 4 minute speed-talk to 1-hr seminars.  I was particularly excited to speak about cross-border marine mammal issues in both Canada and the US, and I enjoyed meeting many new people as well as catching up with old friends and colleagues.  Thank you to Scott Pavey, Jessica Muhlin, and SMM for hosting my visits!
Cammen KM (2017) Molecular perspectives on conservation success: a tale of two seals in the Northwest Atlantic. Maine Maritime Academy Marine Sciences Seminar Series, Castine, ME.
Cammen KM, Vincze S, Heller S, McLeod B, Wood S, Bowen WD, Hammill MO, Puryear WB, Runstadler JR, Wenzel F, Kinnison M, Frasier TF (2017) Genetic diversity from pre-bottleneck to recovery in sympatric pinnipeds in the Northwest Atlantic. 22nd Biennial Conference on the Biology of Marine Mammals, Halifax, NS.
Cammen KM (2017) Genomic perspectives on protected species recovery: a case of two pinnipeds in the Northwest Atlantic. University of New Brunswick Department of Biological Sciences Seminar Series, St. John, NB.