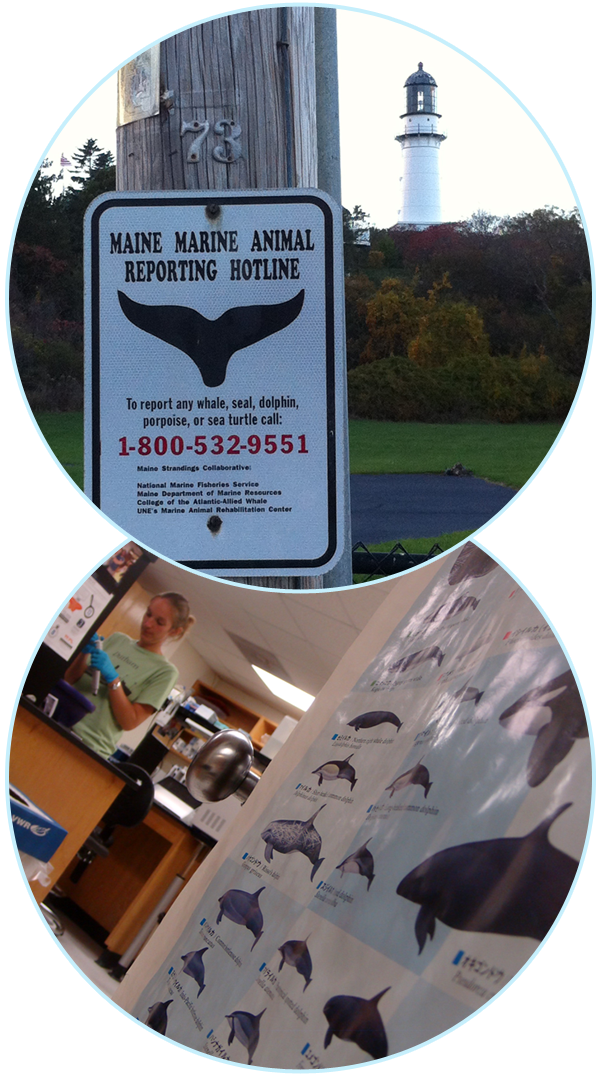 In collaboration with colleagues at the NOAA Northeast Fisheries Science Center, MIT, and WHOI, we are investigating differences in disease susceptibility within and among gray and harbor seals in the North Atlantic. Our region has experienced multiple unusual mortality events attributed to infectious disease epidemics in harbor seals, yet gray seals appear relatively resistant to both phocine distemper virus and influenza A virus. Current approaches to this investigation in our lab include amplicon sequencing MHC Class I and II genes in gray and harbor seals.
In collaboration with local marine mammal stranding networks, Marine Mammals of Maine and Allied Whale, we are analyzing long-term datasets on marine mammal strandings throughout the state in order to better understand spatial and geographic trends in marine mammal stranding rates, distribution, and disease.
In partnership with the NOAA NEFSC  Atlantic Salmon Ecosystems Research Team Gray and Maine DMR, our lab group is studying the ecology of pinnipeds that use the Penobscot River. Following regional recovery of gray and harbor seals, reports of these seals in the Penobscot River have increased.  To better understand the potential impacts of pinniped recovery to river systems undergoing dedicated restoration efforts, we are analyzing the seasonal occurrence and distribution of seals in the river, along with  data on prey fish abundance and putative seal-induced injury rates to Atlantic salmon.  This research is funded by the Maine Outdoor Heritage Fund.  To learn more about this project, please check out our Penobscot River pinnipeds page.